We have published a data book on people aged 75, who were becoming the old-old in 2015. We are looking at them from various aspects and illustrating them with data.
Chapter 1 will show the era in which the current 75-year-olds have lived. Chapter 2 will illustrate those aged 75 (and over) from various aspects, including their income, daily living, health, medical care, end-of-life care and long-term care.
Chapter 3 will make international comparisons among those aged 75 (and over) in Japan, USA, Germany and Sweden based on a study by the Cabinet Office.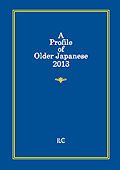 Japan is setting the pace among the aging societies of the world. People aged 65 and over now make up over one-fifth of the population and in twenty years will reach one-third. How are individual older people faring in this "longevity society?"
"A Profile of Older Japanese," prepared by the International Longevity Center-Japan (ILC-Japan), is a compilation of data from various ministries of the national government and other sources, along with brief interpretations.It is organized into eight sections: "The Aging Population and Aged Society,""Living Arrangements,""Housing","Health Status," "Family and Long-Term Care,""Economic Status," "The New-Old and Social Participation" and "International Comparison".
ILC-Japan hopes this information will be helpful in understanding the implications of population aging in Japan and in general.
This booklet has been published every once a year since 2009.