The Report on the 2007 ILC Global Alliance Annual Meeting and Relevant Events (Oct.15-17,2007)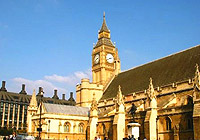 The host country of the ILC Global Alliance Meeting rotates annually. This year the Global Alliance Meeting was held in London through October 15 to 17 President / Directors of 9 member countries participated in a variety of programs arranged during the period.
The crucial agenda of the Global Alliance Meeting was an issue of new membership. Israel was admitted as a new member of the Alliance. Consequently the member countries have amounted to 10 in total. (US, Japan, France, UK, Dominican Republic, India, South Africa, Argentina, the Netherlands and Israel, in the order of gaining membership.)
At the proposal of Dr. Osako, Secretary-General of the ILC Alliance, several task forces were launched. Specific reports on progress will be presented respectively in future and adequate results are expected.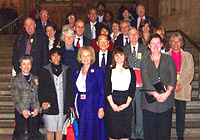 It has been decided that the Dominican Republic will host the Global Alliance Meeting next year. The member countries will maintain energetic activities with the aim of building a coalition with other international organizations like UN or WHO as well as funding as the Alliance, in addition to national activities in each country. The results will be reported in the next Global Alliance Meeting to be held in Saint Domingo. ILC-Japan takes a role of setting up the Alliance's website for propaganda of general ILC Alliance and educational activities, starting to work for the launch in April next year.
The symposiums and seminars on "Human Rights in an Aging World" were taken place aside from the Global Alliance Meeting. It was an outstanding occasion, with not only President / Directors of the Alliance and British experts but also world's top authorities on aging invited as the speakers.
As Baroness Sally Greengross, Chief Executive of ILC-UK, is a member of the House of Lords, a wide variety of high-level program was coordinated such as simulated nonpartisan debate in the Parliament and the grand-scale symposium sponsored by British Telecom Center. Especially in the symposium session Dr. Alex Kalache, Director of WHO's Aging Program, and Dr. Robert N. Butler, President & CEO of ILC-USA, participated, frank and earnest discussion with audience demonstrated the high level of interest.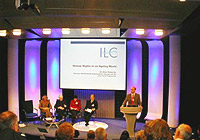 Moreover, as to the overview report on Human Rights for Older People in the Alliance countries, each member had prepared a draft and submitted it beforehand. On the day of the symposium the completed report was distributed, which turned out an interesting document reflecting accurately the actual condition and awareness of human rights in each country.
The Alliance members agreed it was important to cooperate with each other to find the best way and diffuse them all over the world towards solving aging issues both in the developed and developing countries. The Global Alliance Meeting this year was significant enough to serve as a starting point of specific activities in future.