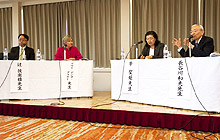 The Seminar 'End of Life Care in Japan and the World - Outcome of "An International Comparative Study on Ideal Terminal Care and Death" ' was held by ILC-Japan on February 3 (Fri.), 2012 at The Tokai University Club in Kasumigaseki, Tokyo.
In the Part

: International Comparative Study Report, coordinated by Dr. Kazuo Hasegawa, Dr. Kanao Tsuji, Dr. Daisuke Watanabe and Dr. Taeko Nakashima made a presentation respectively on "What the International Comparative Survey Aimed for," "Terminal care and roles of professionals in each country," and "The Status of legal structure and system of terminal care in each country."
In the Part

: Report from Abroad, Dr. Marie-Anne Brieu made a presentation on "The Actual State of Terminal Care in France and Europe, and Dr Lee Sung Hee lectured on "Changes and Terminal Care in Korean Society."
In the Part

: Discussion, active exchange of opinions was conducted in regard to in-home end of life care, future challenges and ideal situation of terminal care for persons with dementia, etc.
The details of the Seminar will be reported in the 18th issue of "Global Information Journal on Longevity and Society" to be published in March.