"Senior housing" that gives energy to elderly people by providing jobs
Toru Saito, Manager for Senior Projects at Dentsu, May 29 (Tue.)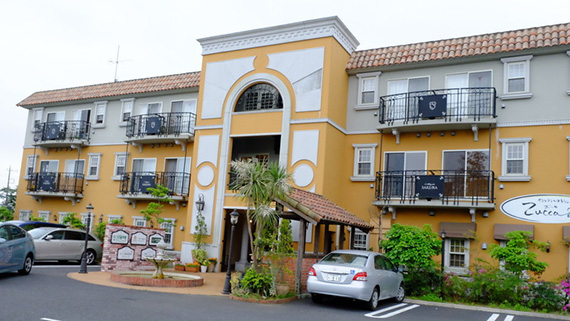 How to continue working throughout life

Since a 100-year life is becoming a reality, "how to continue working in old age" is becoming an important theme to consider. When we say "work" here, it does not necessarily mean merely earning money.

By working, people have opportunities to" communicate with others", "have self-sufficiency by helping others" and "extend healthy life expectancy by being physically active". These secondary effects achieved by working will make old age more cheerful as well as meaningful. From that point of view, "working" is a hot topic right now.
In January this year, it became a popular topic of conversation that Britain appointed the first Minister for Loneliness. According to a report from the Jo Cox Commission on Loneliness, more than nine million people in Britain often or always feel lonely and 2/3 of them also feel that life is challenging. And nearly 200,000 older people have not had a conversation with a friend or relative in more than a month. These facts from the report are the reason that this new position was created.

There must be more older people in Japan who do not have conversations with anyone since Japan is aging faster than Britain. According to the "International comparative survey on the life and thoughts of elderly people" in 2015 by the Cabinet Office, one out of four elderly people (25.9%) say that they do not have a close friend which is a higher number than the US, Germany or Sweden.

There are close to six million elderly people in Japan who live alone. How can elderly people spend every day not feeling lonely but cheerful? This is such a big challenge to tackle. In the near future, taking approach to eliminate loneliness through work will become important in Japan.

While this "working at old age" approach is becoming important, there is a senior housing that started trying this approach six years ago. It is the senior housing with services called "Petit Monde Sakura" in Sakura City, Chiba Prefecture. I visited there to interview them in early May after the Golden Week holiday.
Overview of "Petit Monde Sakura"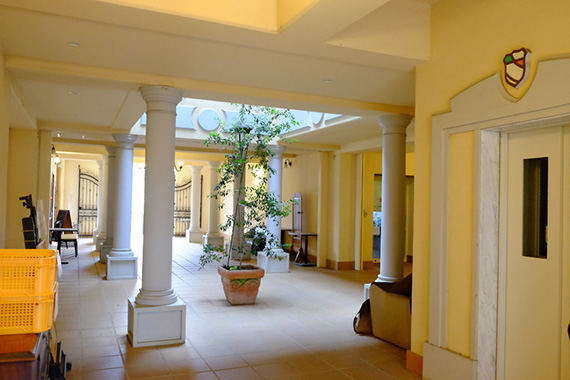 "Petit Monde Sakura" is located about a 10-minute drive from the JR Sakura Station and it is a complex building with clinics and senior housing. The building is built in an Italian style and it has a warm atmosphere unlike the surrounding area. There is a small water fountain near the entrance and the central part of the building has an open ceiling space with sunshine coming in. Overall, it has a relaxing atmosphere.

The building has three stories; there are clinics, a restaurant and the management office on the first floor with the second and third floors for residence. The clinic complex consists of a neurologist, urologist and a dentist as well as a pharmacy. The Italian restaurant attracts many people from the neighborhood during weekdays.

The residential area for the elderly people with services, Petit Monde Sakura, has 32 rooms in total. Each room has 280 sqft (26 sqm) with a balcony. The communal area consists of a dining room and a hall which can be used for work or meetings. Also, there is a wood deck outside of each room's front door so that residents can decorate however they like such as with flowers and photos. This porch space is to connect their room with the community.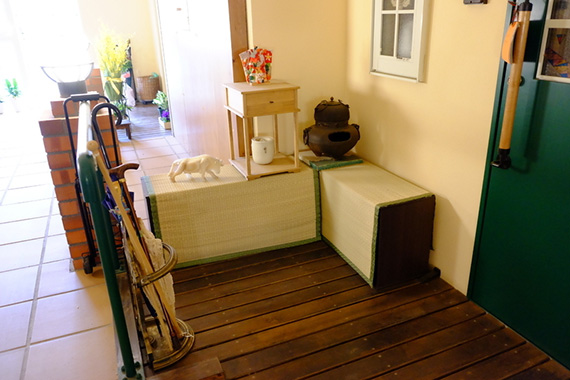 There is more unique space at Petite Monde Sakura. It is located right next to
the residential building and is about 64,000 sq ft with a garden and goat farm. This is one of the workspaces at Petite Monde Sakura.

"Petite Monde Sakura" as a workspace

The distinctive character of Petite Monde Sakura is that their concept is to be connected with the community through "work" and "role". Below is their concept which is written in the company's pamphlet.
"At Petite Monde Sakura, residents can start their own job and role according to their characteristics and abilities. Even with old age or disabilities, people become healthy both physically and mentally when there are things to do every day, and it forms bonds between colleagues as well as provides extra income. These will lead to the purpose for living."

Here are examples of the actual work: farming and growing vegetables, watering and taking care of plants and trees, opening and closing the gate, cleaning the building, helping with meal delivery and selling organic vegetables. However, the work is not limited to those just mentioned. Staff at Petite Monde listen to the resident's needs, interests and strength, and then try to match up or create jobs. By doing so, they are trying to provide the purpose of living to the residents. Work is rewarded with the community currency of Petite Monde Sakura. This currency can be used to eat in the building, use transportation services and so on.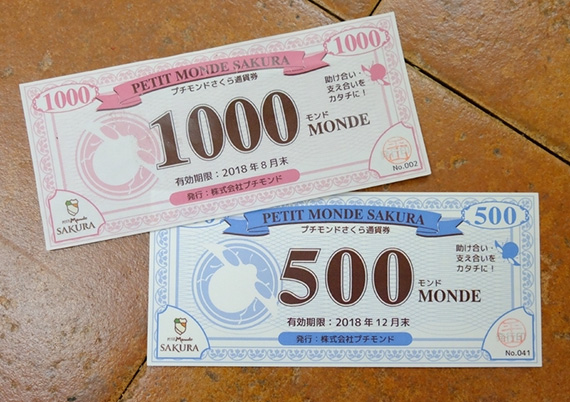 Of course, you can opt out of working. Currently five or six people are working out of 29 residents.
Working is fun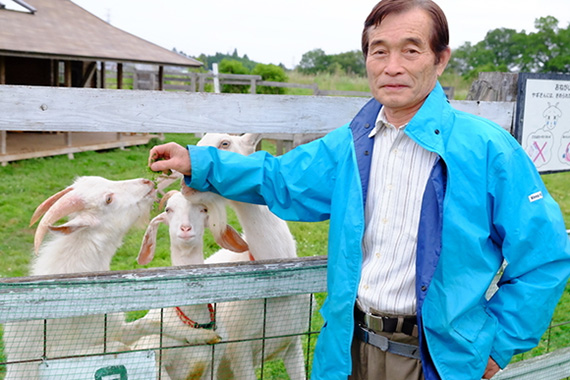 We interviewed some residents who work at Petite Monde Sakura.

Mr. Toshikazu Sato (Male, 76) moved here from Yokosuka three years ago. He takes care of goats every day and works on growing vegetables and flowers in the garden. He was an office worker before he retired but his parents were farmers, so he knew well how to take care of livestock and grow vegetables. "Goats started showing some affection to me since I take care of them every day. That makes me feel like they need me." says Mr. Sato with a smile. He is known as "Uncle Goat" by the nearby elementary school children. Vegetables grown here are sold at the entrance of the building.

Ms. Chieko Yamaguchi, 90, is also a resident here. She teaches English conversation as a volunteer twice a month to the elementary school children in the neighborhood. She was an English conversation teacher for almost 50 years and wanted to teach if there was an opportunity. So the staff worked hard to coordinate something and came up with this class. Ms. Yamaguchi says she herself gains energy by dealing with children.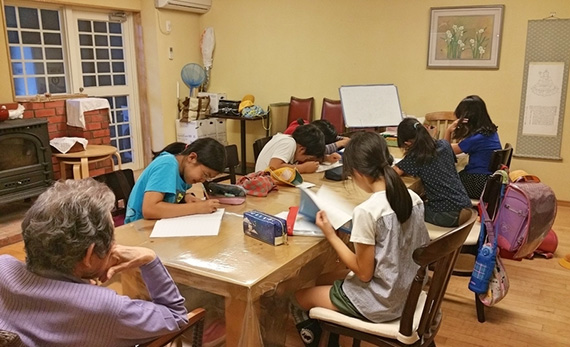 Background of the start of "Petite Monde Sakura"

Where was the idea of an elderly residence with a "working" theme born? We interviewed Mr. Hirayama who is the CEO of Kudo Company Ltd., the parent company of Petite Monde Sakura. Kudo Company is a general contractor and develops mainly the Chiba area. Their business development includes building rental housing, clinics and Japanese style spas. Mr. Hirayama has been interested in the nursing care industry and he got certification to be a caregiver 10 years ago with his wife. When he visited one of the care facilities as part of the training, he felt upset to see how poorly they were managing the place. So when the government started to promote the system of "residences with health and welfare services for the elderly" he decided to build those residences himself.

"Residences for the elderly with health and welfare services" basically consists of barrier-free housing with monitoring and a safety confirmation system. However, I was not interested in just following the standards but wanted to develop a facility where residents can enjoy every day and live with dignity. So I poured various ideas into this development. The concept of this facility is "Nagaya", the Japanese style row house. I tried to build a space where people can interact and communicate with each other" says Mr. Hirayama.

And it was the encounter with a book called "Bethel the town of miraculous medical and welfare (written by Takashi Hashimoto, published by Nishimura Co., Ltd.)" when he got the idea of using "work" as a concept. According to the book, Bethel is a name of an institution located in Bielefeld which is 80km away from Hannover City in Germany. Since its establishment over 140 years ago, the whole town works to improve the medical and welfare system, thus attracts attention from those who work in the medical and welfare industries all over the world. There are about 8,000 people living there who have some kind of disability.

The motto of Bethel is "jobs over donations". Since Germany is a Christian country, they get a lot of donations. Apart from that, they believe that both volunteers and people with disabilities should do some kind of work so that they can build a sustainable society where many people can coexist. Bethel already has a social system as a city to provide jobs to anyone.

Mr. Hirayama was very impressed by this book and that is how he started the Petit Monde Sakura. He says that he is starting to see some support lately for this idea from the public but not to the level of Bethel.
"In Bethel, major companies such as Mercedes-Benz provide jobs to the elderly and handicapped people. Germany promotes such a system as a country. On the other hand, it is still rare to see companies do that in Japan." (Mr. Hirayama)

When we say elderly people can work with a purpose in life, what they can actually do depends on the person's health condition, physical capacity, life experience in the past etc. Job providers need to understand such various factors of the elderly when providing jobs, and at the same time, it is important to create a system to make it possible. In this 100-year of life era, it is crucial that both the workers and job providers need to understand each other and compromise in order to build a society where people are able to work as long as they want.

Toru Saito, Manager for Senior Projects at Dentsu
Born in 1958. His specialty is "super-aged" society and future predictions. He has worked for Seibu Department Stores, Distribution Industry Research Institute (currently Saison Research Institute) and Parco Co., Ltd. before joining Dentsu Inc. and becoming a manager for Senior Projects. He is a social worker and also serves as a board member for the Kichijoji Grand Design Revision Committee. His publications include "Social History of Shopping Malls" (Sairyusha), "Marketing for Super-Aged Society" (Diamond Inc.), "The reason why Kichijoji became 'the most popular town people want to live in now' "(Bunshin Publishing) and "Introduction to Developmental Science" (Coauthor, University of Tokyo Press).
official site: 明るい超高齢社会のミカタ(斉藤徹のHP)
Facebook: toru.saito.102