The first employment model for a 100-year life
-"IKIGAI (purpose in life) YAKI (pottery)" in Ikeda Town, Hokkaido

Toru Saito, Manager for Senior Projects at Dentsu, 9/17/2017 (Sun.)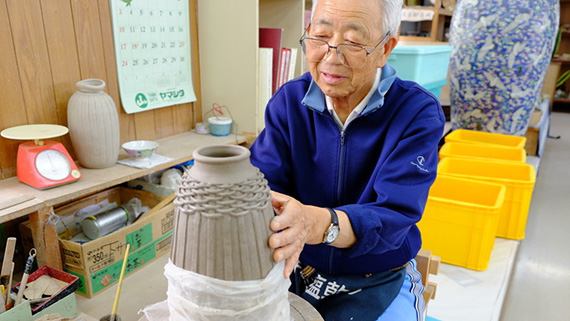 Ideal way of working in the 100-year life era
The "Council for Designing a 100-Year Life Society" was launched in September as a part of "A Revolution in Human Resources Development" which is the Abe Cabinet's centerpiece policy. They will discuss things such as how education, employment and social security should be changed to accommodate the aged society. Among them all, "the working style in old age" will be the main focus. The 100-year life is very near and it is clear that the current social security system will not be able to support everyone's long life after retirement. In order to avoid that situation, it is important that elderly people continue to work in good health as long as they are able to.
With that being said, it is like putting the cart before the horse if working in old age is discussed assuming to be negotiated with raising the age of eligibility to receive a pension or reduced pension. The most important thing is to make a working environment where the elderly people who have rich life experiences can work actively with dignity. It will also be necessary to provide an opportunity to learn again to catch up with the dramatic changes in the social environment and technologies.

As we seek an ideal way of working in old age, I recently encountered a model case which was already achieved half century ago. It is the "IKIGAI YAKI" in Ikeda town of Hokkaido which I am going to introduce today. Forty-five years ago, the Mayor of Ikeda at that time, Mr. Kaneyasu Marutani, opened a municipal work space for elderly people called "Ikeda Town Ikigai Center". IKIGAI YAKI is name of the pottery made there. Many elderly people still gather at this center and enjoying making pottery.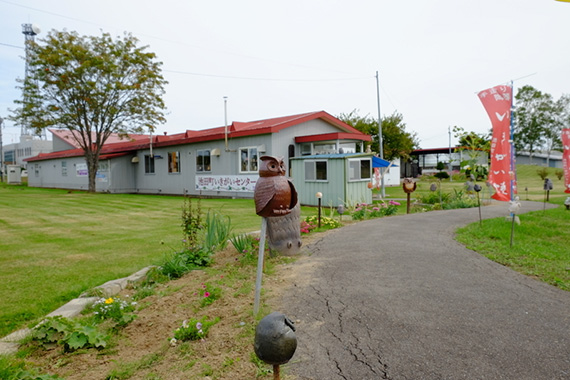 Activities at the "Ikeda Town Ikigai Center"

I will now talk about the activities at the "Ikeda Town Ikigai Center". This facility is located about a 5-minute drive from Ikeda Station and it is a simple building surrounded by a lawn. Actually it used to be an elementary school and they renovated the building. As soon as you enter the building, there is a shop and they sell various types of pottery such as teacups, rice bowls, sake bottles, plates, vases, lamp shades and so on. They are relatively low-priced, starting at 350 yen for teacups and most are between 500 yen and 1,000 yen. The most expensive item is the lamp shade of "ketupa blakistoni" and that is 12,000 yen. This is a popular item to receive as a thank-you gift for giving a hometown tax donation (furusato nozei system).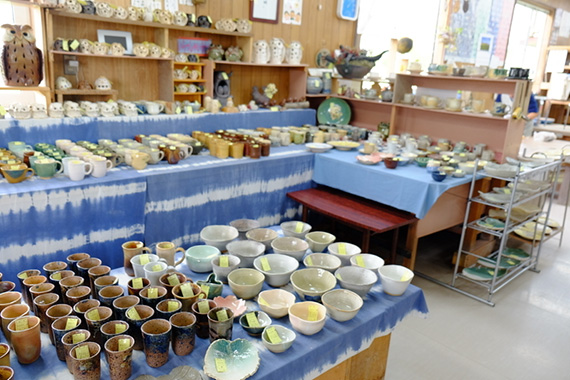 If you go past the shop, there is a studio where elderly people are working on their pottery at their own pace. When I visited the studio, there were 15 people working. There are currently 30 people registered. There is no strict restrictions to work here, you just need to be a resident in Ikeda Town and be over 60 years old. Currently their age range is from 61 years old to 92 years old.
The work hours are 4 days a week, Monday through Thursday, from 9am to 5pm. In the winter time, they work at home instead of the studio due to snow. They are given 4 kg of clay per person every week. This clay is made of local clay mixed with Shigaraki clay. Everyone uses this clay and works hard to make their unique piece of art. They form the clay with hands instead of using a potter's wheel; it should help to prevent dementia by using fingers a lot.

After they finish creating the pottery, they are baked in an electric kiln, painted and sold. When they are sold, half of the proceeds goes to the potter. Since they are not professional potters, their earnings are not that great and - probably around several tens of thousands of yen per month at maximum. However, when someone buys their artwork, they feel like they are being useful for others and can achieve a feeling of self-sufficiency. And they feel motivated to make efforts to sell more. They can gain something more important here than just enjoying pottery as a hobby.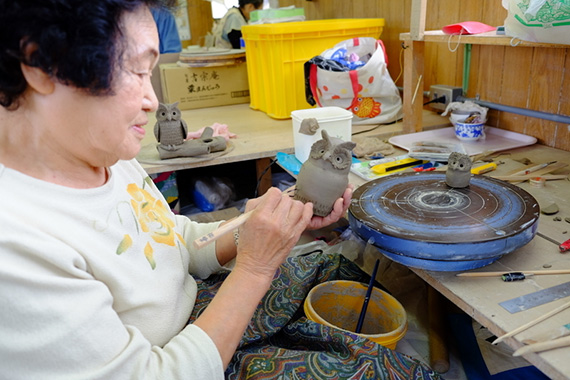 I interviewed several people who were working in the studio. Everyone was very proud of their work. "IKIGAI YAKI" is such a perfect name. I was impressed to see that everyone was working hard with the feeling of YARIGAI (sense of satisfaction) and IKIGAI (purpose in life).

The inventor of the concept of "IKIGAI YAKI" was the famous iconic mayor of Ikeda Town

The inventor of the concept of "IKIGAI YAKI" was the former member of the House of Councilors named Kaneyasu Marutani (he passed away in 2014). He was the Mayor of Ikeda Town of Hokkaido from 1957 for about 19 years and he started this during his term in office. He was famous as an idea man full of vitality. He reconstructed the deficit-ridden finances of the town in only two years. He also cast a spotlight on the wild vine naturally grown in town and produced "Tokachi Wine". He was not a typical public servant and showed a great ability in various fields. In his autobiography "Kanpai (Cheers)! Wine Mayor" (published in 1976), he wrote about the episode of "IKIGAI YAKI".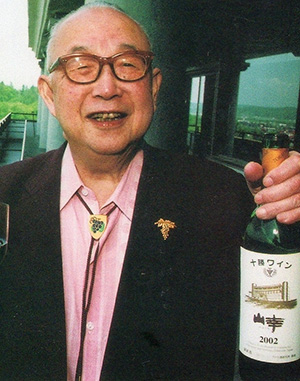 His inspiration for elderly employment came from the visit to the nursing home for the aged in Beaune, France. The elderly people there were actively working on the farm, cleaning and doing light work. They seemed very vibrant.

Mayor Marutani's idea was that "working is the basis of IKIGAI (reason for living) for human beings so that no matter how small the job is, elderly people should not be bored and be given jobs while they are still capable of working. Welfare for the elderly should be geared that way." (from his book mentioned above.)

At that time, during the levee construction at the Toshibetsu River, pots and stone tools from the Jomon Period were discovered and they also found the local clay to be a good quality. Because this is a region with severe cold weather, he thought that "promoting pottery as their local industry would be difficult but we should encourage the elderly people to try making pottery for fun so that it could be their IKIGAI." That is how "IKIGAI YAKI" started in 1972.

By the way, Mr. Kaneyasu Marutani himself also started pottery at the age of 80 at the Ikigai Center after he retired as a member of the House of Councillors and enjoyed it for more than 10 years. You may say that is an ideal way of spending very advanced years.

How seeking IKIGAI employment should be

It has been close to a half century since the "IKIGAI YAKI" started in Ikeda Town. Their activity continues even now and it is still going strong with the support from many local people.

As I mentioned earlier, there should be wide selection of working styles to choose from in old age and the "Silver Human Resources Center" should not be the only place where elderly people can seek a job. There is post-retirement re-employment system and the employment rate in old age is increasing in recent years. However in reality, unfortunately, this system is not necessarily encouraging various working styles.

It is probably difficult to adopt the exact same approach of Ikeda Town to another town especially since this is a different time, but there should be many essential lessons that we can learn from it. The elderly people can join the production of local specialties or they can make up for the shortage of craftsman. It is expected that there will be an increased shortage of workers in the near future, so it is crucial to make the working environment in which elderly people can work at their own pace. In areas where elderly people have active life styles, it will lead to the cultivation of civic pride as well.
Toru Saito, Manager for Senior Projects at Dentsu
Born in 1958. His specialty is "super-aged" society and future predictions. He has worked for Seibu Department Stores, Distribution Industry Research Institute (currently Saison Research Institute) and Parco Co., Ltd. before joining Dentsu Inc. and becoming a manager for Senior Projects. He is a social worker and also serves as a board member for the Kichijoji Grand Design Revision Committee. His publications include "Social History of Shopping Malls" (Sairyusha), "Marketing for Super-Aged Society" (Diamond Inc.), "The reason why Kichijoji became 'the most popular town people want to live in now' "(Bunshin Publishing) and "Introduction to Developmental Science" (Coauthor, University of Tokyo Press).
official site: 明るい超高齢社会のミカタ(斉藤徹のHP)
Facebook: toru.saito.102