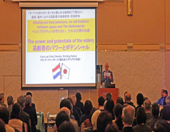 We organized an international symposium based on the results of our International Comparative Study on Productive Aging since 2012. For this event, we invited the director of RADIUS (a Dutch welfare organization), who gave the latest report on community-based efforts in the Netherlands. This country has drastically transformed itself from a welfare state to a society that encourages participation of all citizens. Meanwhile, the symposium panelists also discussed the future of aged society in Japan and development of a new system based on mutual support in communities.

About 200 people participated in the event, many of whom gave positive feedback, such as, "From the initiatives in the Netherlands, which has similar goals and issues to Japan, I have learned a lot about how to attract volunteers, how a matching system works, and how to build a community in a casual manner."
■ Program:
Part 1: Older people's community participation and social contribution outside Japan
・Introduction of Mr. Frank van Rooij and changes in European community care
Yoko Matsuoka (Chief Investigator, ILC-Japan Research Committee; Associate Professor, Faculty of Humanity, Tokyo Kasei University)
(1) International report: How do older people create communities in the Netherlands?
Frank van Rooij (President and Director, Stichting Radius)
(2) The Latest International Trends and Their Implications for Japan
Yoko Matsuoka
Part 2: Community care and older people's contribution to communities in Japan: Challenges and achievements
・Presentation of the issues: Keiko Shimizu (President, Sawayaka Welfare Foundation)
・Panel discussion
Panel: Keiko Shimizu, Yoko Matsuoka, Frank van Rooij, and Shinji Hattori (ILC-Japan Research Committee member; Researcher, Institute for Health Economics and Policy)